History of Hope for North Brevard, Inc.
Hope for North Brevard, Inc. was founded in August 2009 by Trey and Chrissy Gordon. Trey served as the Youth and Family Director at Christ Community Church (PCA) in Titusville for the past 8 years, before launching Hope for North Brevard, Inc. Trey's ministry experience beyond being a youth and family pastor over the past 15 years, has been primarily in counseling at a Christian Counseling Center which he did while in New York City (Redeemer Counseling Services), as well as founding a Christian Counseling Center in Long Island (New Hope Counseling Center, Oyster Bay, NY).
Trey has been actively involved in leading the North Brevard Network of Youth Pastors, as well as serving on the North Brevard Coalition of Human Services. Trey is also a YMCA Board Member. For the past three years, Trey has also served as the Executive Director of Southland Student Conferences, which is a middle school & high school camping ministry of the PCA.

Trey did his undergraduate work at the University of Central Florida with a B.A. in Psychology, then onto seminary at Reformed Theological Seminary in Orlando for 3 years with work in two Master's degrees (Theological Studies & Counseling). Trey graduated from RTS in May 1999 with a M.A. in Counseling. Chrissy Gordon also has her Master's degree in Counseling and Guidance and she is currently a professor at Brevard Community College teaching Psychology. Trey and Chrissy have two children, Lindsey (9) and Ryan (6).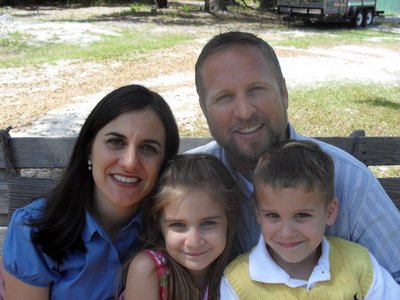 Hope for North Brevard Inc , was birthed out of a desire to see the youth and families of Titusville be transformed by the power of the gospel. Trey and Chrissy responded to God's call to take a step of faith, in following His lead in developing a kingdom vision for our community. We believe that God's instrument for transformation is the church, but maybe church in a whole new light: Church from a kingdom perspective vs. church in isolation.
Winston Churchill once said, "However glorious the strategy, you should occasionally look at the results". HNB was started for the results suggest that we reach about 20% of the student population of North Brevard with the gospel, and of that 20% most of those tend to be middle-class and above. Our ministry to "at-risk" youth is far less effective.
The 2009 Gap analysis from the North Brevard Coalition of Human Services also marked "Youth Services" as the greatest need in our community and the "breakdown of the family" as the core problem of our town. As pastors we are well aware of the brokenness that plagues our congregations and our community. HNB is a response to those needs and a change in strategy in how we affect overall gospel transformation in our community.